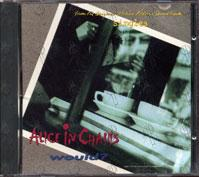 "Would?" is a single by Alice In Chains. The song first appeared on the soundtrack to the 1992 movie Singles, in which the members of Alice in Chains make a cameo appearance and later appeared on the band's album Dirt, also released in 1992. The song was included on the compilation albums Nothing Safe: Best of the Box (1999), Music Bank (1999), Greatest Hits (2001), and The Essential Alice in Chains (2006).
The song, written by guitarist/co-vocalist Jerry Cantrell, concerns the late lead singer of Mother Love Bone, Andrew Wood, who died of a heroin overdose in 1990. In the liner notes of 1999's Music Bank box set collection, Jerry Cantrell said of the song:
I was thinking a lot about Andrew Wood at the time. We always had a great time when we did hang out, much like Chris Cornell and I do. There was never really a serious moment or conversation, it was all fun. Andy was a hilarious guy, full of life and it was really sad to lose him. But I always hate people who judge the decisions others make. So it was also directed towards people who pass judgments.
Music Video
The music video for "Would?" was released in 1992 and was co-directed by Cameron Crowe and Josh Taft. The music video won the award for Best Video from a Film at the 1993 MTV Video Music Awards. The video is available on the home video release Music Bank: The Videos.
Section heading
Edit