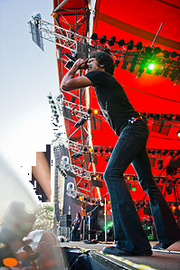 William DuVall (born September 6, 1967 in Atlanta, Georgia) is an American musician, best known as a current vocalist and guitarist in Alice In Chains. DuVall joined Alice in Chains in 2006, and appears on the 2009 album Black Gives Way To Blue, replacing Layne Staley since his death in 2002
Early Carrer
Edit
DuVall's music career started in the early 1980s Atlanta hardcore punk scene. He first performed with Awareness Void of Chaos.
In 1983, DuVall helped found the controversial Atlanta-based hardcore punk band Neon Christ, contributing guitars and lyrics to the band's albums.Other members of this band were vocalist Randy DuTeau, bassist Danny Lankford, and drummer Jimmy Demer. Neon Christ had strong ties to hardcore luminaries Corrosion of Conformity and Bl'ast. With a couple of short East Coast tours and two albums, the politically-pointed band started gaining popularity. The band used its popularity to support many charitable causes including working to free Fela Anikulapo Kuti.
The band disbanded in 1986, reuniting for a one-time show featuring the original members on December 24, 2004. Currently, the members are said to be filming a documentary, which concluded with a February 2, 2008 show at Lawrenceville, Georgia's punk haunt The Treehouse.
After Neon Christ originally broke up, DuVall was briefly the second guitarist in the popular Northern California hardcore punk band Bl'ast, contributing a small bit of writing to their second album, It's In My Blood, released on the hardcore punk–alternative label SST Records, founded by Greg Ginn of hardcore punk band Black Flag. DuVall did not, however, stay with the band long enough to record on the album.
In 1987, DuVall formed the Final Offering with vocalist Randy Gue (a former Neon Christ roadie), Corrosion of Conformity bassist Mike Dean and drummer Greg Psomas. However, Psomas's heroin habit hindered them from working consistently. Dean would go back to work with Corrosion of Conformity; Psomas died of an overdose in 1994.
DuVall spent the late 1980s with a Jimi Hendrix-inspired band, No Walls. Other members of this band were jazz bassist Hank Schroy and drummer Matthew Cowley. They released one album in 1992. He also spent the late 1980s in college earning a degree in philosophy, with a specialization in religion.
Present Carrer
Edit
Quickly becoming Cantrell's go-to man, DuVall and Cantrell's musical collaborations led to DuVall joining Cantrell's band Alice In Chains, replacing Layne Staley, who died of a drug overdose in April 2002.
Initially, Cantrell and the other veteran members of Alice in Chains had said this reunion didn't necessarily foretell a future for the band and that this was just a tribute to Staley and their fans. Drummer Sean Kinney went further, saying at that time he would have liked to change the name and adding, "I don't see continuing as Alice and replacing somebody." DuVall expressed similar sentiments with regards to the task of filling in for Staley:
"If there had been that one formal discussion saying, 'Would you like to help us resurrect Alice in Chains?' I would have thought twice. But we were just playing for the fans who care about it and hadn't seen it in a long time. For all we knew it was going to be one more victory lap and goodbye."
However, the reformed Alice in Chains generated enthusiasm from their fans to convince them to keep the name. DuVall claims to have met Staley's family, who have all purportedly given the band their blessing:
"I never met Layne though, but I met his family. I met his mom, it was right after he died, when we played Seattle. There was a lot of people at the show, obviously very sort of heavy – Chris Cornell is standing on my side of the stage all night, like right where I have to go change guitars, that guy is in my way every time...I had to like, Jedi mind trick myself: 'He is not there.' It was weird because I slashed my hand open during the first or second song, I was bleeding all over the place and I was just like: 'Oh God – it's gonna be one of those.' One of those nights where it's just not effortless; where everything is going to be crazy, I'm tangled up in my cord, and all kinds of things going on. And Cornell is standing there. Ann and Nancy Wilson came out, they sang a song, I'm sharing a mic with Ann Wilson. Then after the show, there's all these people hanging out, and Layne's mother comes up to me and takes both my hands and she's crying her eyes out and was like 'We're so proud of you!' It was just too low to get under...it was like 'Whoa – okay.' You can't let it sink in."[7]
In 2007, Alice in Chains began touring with Velvet Revolver and Kill Hannah. The ReEvolution tour was in two parts. The first took in many European cities and the Eastern United States. The second part, also referred to as "The Libertad Tour", is primarily a cross-country tour that spread into three cities in Canada. For the first time in 15 years Alice In Chains toured Australia as second headliner under Nine Inch Nails on the Soundwave Festival. Personally, it was DuVall's first visit to Australia. It had since been advertised on the official Alice in Chains website that the band – now with DuVall officially noted as lead singer – was working on new material with an album, now known as Black Gives Way To Blue, released on September 29, 2009.
In 2008 he performed vocal duties with MC5/DTK at the Meltdown Festival curated by Massive Attack.