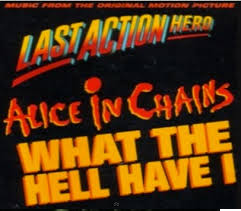 "What the Hell Have I" is a track by the American rock band Alice In Chains. It was first featured on the soundtrack to the 1993 John McTiernan film Last Action Hero starring Arnold Schwarzenegger. The song was included on the compilation album Nothing Safe: Best of the Box (1999). A remixed version of the song was included on the compilation albums Music Bank (1999) and The Essential Alice in Chains (2006).
Origin And Recording
Edit
The song was originally written for their breakthrough album Dirt, but was shelved at the time and used later for the Last Action Hero soundtrack. "What the Hell Have I" is notable for the use of a sitar. In the liner notes of 1999's Music Bank box set collection, guitarist Jerry Cantrell said of the song:
This and "A Little Bitter" were mixed by Andy Wallace because Toby [Wright] had a previous commitment, and they always bothered me because they were too "tinny" compared to our other stuff. So I was happy to see Toby finish his work off with the remixes [on Music Bank]. That's not to disrespect Andy, it's just that he wasn't there when they were being created. Toby's like a brother, he knows all our shit, all our personalities and we don't trust anybody unless we've got something on them.
Music Video
The music video for "What the Hell Have I" was released in 1993 and was directed by Rocky Schenck, who had previously directed the "We Die Young" and "Them Bones" music videos for the band, and who would later direct the music video for "Grind". In the music video singer Layne Staley's face is reflected on him with different expressions. The video is available on the home video release Music Bank: The Videos.