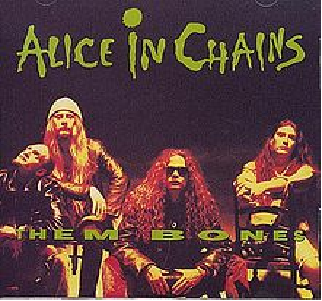 "Them Bones" is a song by the American rock band Alice In Chains. The song was released as the second single from their second album, Dirt(1992). The song was also included on the compilation albums Nothing Safe: Best of the Box (1999), Music Bank (1999), Greatest Hits (2001), The Essential Alice in Chains (2006). A live performance of the song is included on their release entitled Live.
Structure
Edit
The song was written by guitarist Jerry Cantrell. The song is highly chromatic and is played in a time signature of 7/8—except for the chorus, which is in 4/4. When discussing the use of odd time signatures in a 1998 interview with Guitar World, Cantrell said:
"I really don't know where that comes from; it just comes naturally to me. I could sit down and figure it out, but what's the use? Off-time stuff is just more exciting — it takes people by surprise when you shift gears like that before they even know what the hell hit 'em. It's also effective when you slow something down and then slam 'em into the dash. A lot of Alice stuff is written that way — 'Them Bones' is a great off-time song."
Music Video
The music video for "Them Bones" was released in 1992 and was directed by Rocky Schenck, who had previously directed the "We Die Young" music video for the band, and who would later direct the music videos for "What the Hell Have I" and "Grind". The video is available on the home video release Music Bank: The Videos. The video was also featured on Beavis and Butt-head, where Butt-head claims that "this is the coolest video I've ever seen". The video shows the band playing in a cavern, apparently underground. In front of the band is a puddle, in which can be seen Staley singing or various animals eating or fighting with each other and a child being born, which corresponds with the lyrics "Some say we're born into the grave".