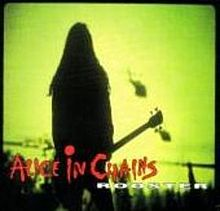 "Rooster" is a song by the band Alice In Chains. The song was released as a single in 1993 and is featured on the band's second studio album, Dirt (1992). The song was included on the compilation albums Unplugged (1996), Music Bank (1999), Greatest Hits (2001), and The Essential Alice in Chains (2006). A demo version of the song was also included on Music Bank.
Origin And Recording
Edit
In the liner notes of 1999's Music Bank box set collection, guitarist Jerry Cantrell said of the song: "I think there's some vibe on the demo that maybe we didn't get here (on Dirt), but this has something all of its own... quality, for one thing."
Music Video

Edit
The music video for "Rooster" was released in 1993 and was directed by Mark Pellington. The music video featured real Vietnam War documentary/news footage as well as some very realistic/graphic re-enacted combat scenes.
The "Rooster" character was based on AIC guitarist Jerry Cantrell's father (Jerry Cantrell Sr.) whose lifelong nickname was "Rooster". Cantrell Sr. served two combat tours in Vietnam, and also appears in the music video. Cantrell Sr.'s scenes were filmed on what was then Cantrell's great uncle's property, now the site of Jerry Cantrell's family ranch, in Atoka, Oklahoma. Cantrell Sr.'s scenes, filmed in stark black & white, show him hunting in the woods as an older man, while having "flashback" memories of his youthful Vietnam combat experiences (which are shot in full color). The uncut (more graphic) version of the video is available on the home video release Music Bank: The Videos. "Rooster" was the last music video to feature original bass player Mike Starr, who is pictured on the cover of the single.
The intense combat scenes for the video were actually filmed on location in Angeles National Forest in January 1993 and have been favorably compared to Oliver Stone's classic Vietnam War film Platoon. This makes sense since VN Veteran and Military Technical Advisor, Dale Dye, served as advisor on both the Rooster Video and on Platoon, among many other projects in Hollywood. Actor James Elliott (Southland, Entourage, Mafia II, etc.) portrayed the title role of "Rooster", the Team Leader of a Long Range Recon Patrol (LRRPs) in the combat scenes. Elliott, who is right-handed, had to learn how to handle multiple combat weapons left handed for the production in order to match the real Cantrell Sr.'s footage (Cantrell Sr. is left handed and holds his knife/shotgun that way in the video). The military weapons and gear used and worn by the actors in the video are not period-authentic. The M16 A2 pictured, as well as the nomex flight gloves were not used until well into the Vietnam war. Dale Dye provided Elliott with some of his own personal combat gear which Dye had actually worn during multiple tours in Vietnam, including his military watch and map light, among other items.
Other actors who appear in the video include Casey Pieretti (well known real-life amputee actor/stunt performer); and popular character actor Jon Gries (Napoleon Dynamite, Lost, etc.). Pieretti, who walks/runs extremely well with a prosthetic leg, performed a very graphic and difficult scene in which his leg was "blown off" by a land mine and Elliott's "Rooster" character offers life-saving medical aide on the battle field. Jon Gries's character was shot in the chest during intense combat with North Vietnamese infantry troops and died in the arms of Elliott's "Rooster" character in the final emotionally charged combat scenes of the video. Also featured are scenes of a group of children playing with bubbles.
Real life combat veterans have often commented about how moving and realistic these scenes were. Yet MTV initially pulled the controversial video from rotation due to complaints about the graphic nature of the war scenes. This upset the band a great deal, especially Jerry Cantrell, who has stated how much of a foolish double standard existed at the time as "Rooster" simply portrayed actual history with realism yet MTV routinely allowed "gangsta" rap and other violent videos in which gratuitous violence/death/killing was portrayed and clearly glorified. At the time the video was also the longest music video ever aired in full on MTV (running approximately 7 minutes long).
The song remains extremely popular to this day among modern combat troops in Afghanistan and Iraq and can often be heard being played in-country by troops in combat units who understand the message of the video all too well.
In an episode of Beavis and Butt-head, a war veteran tells the duo his nickname, "The Rooster", upon hearing this, Beavis and Butt-head reply that they come to "snuff the rooster".