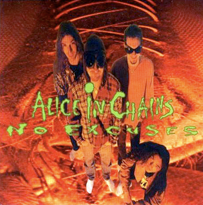 "No Excuses" is the lead single from American rock band Alice In Chains 's third EP, Jar of Flies (1994). The song was included on the compilation albums Nothing Safe: Best of the Box (1999), Music Bank (1999), Greatest Hits (2001), and The Essential Alice in Chains (2006).
"No Excuses" was released as a single in 1994. "No Excuses" found moderate airplay on alternative rock radio and is considered by music fans and critics as a grunge staple. "No Excuses" peaked at number 48 on the Billboard Hot 100 Airplay chart, making it the only Alice in Chains top 50 song. Although Alice in Chains fared well on mainstream rock radio, "No Excuses" was their only song to hit number one on the Billboard Mainstream Rock Tracks chart until "Check My Brain" in 2009. "No Excuses" peaked at number three on the Billboard Modern Rock Tracks chart.
Ned Raggett of Allmusic said that the song "proved in spades that Alice in Chains were far more than oppressive doom-mongers" and added, "Topped off with a catchy chorus, it made for another high point for a band seemingly blessed with them."
Music Video
Edit
The music video for "No Excuses" was released in 1994 and was directed by Matt Mahurin, who had previously directed the "Angry Chair" music video for the band. The video features actor Max Perlich. The video is available on the home video release Music Bank: The Videos.
Section heading
Edit