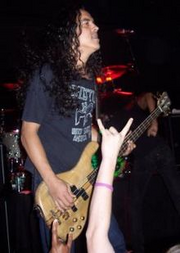 Mike Inez (born May 14, 1966) is an American rock musician best known for his role as the bassist of Alice In Chains. Inez has also worked with other popular musical acts such as Ozzy Osbourne, Slash's Snakepit, Black Label Society, and Heart. He is of Filipino descent.
Mike Inez began his career in music by playing guitar and saxophone. Since the late 1980s, his career has consisted of the role of bass guitarist in popular hard rock bands.
Alice In Chains
Edit
By late 1993 Inez had moved on to his next project. Alice In Chains bassist Mike Starr had left the group after the release of their album, Dirt, and Inez replaced him.
Inez toured throughout 1993 with Alice in Chains on the strength of the Dirt album. The group also participated in the 1993 Lollapalooza Tour.
Alice in Chains' album, Jar of Flies, was released in 1994 with Inez on bass. Jar of Flies debuted at #1 on album sales charts, the first EP ever to do so.[3]
Inez recorded with the band for their eponymous 1995 release Alice in Chains, which also debuted at #1. In 1996, Alice in Chains recorded their MTV Unplugged special, the first live performance the group had played together in three years. After their last live performance, Alice in Chains went on hiatus. Then in 1999 Alice in Chains returned to the studio to release the songs Get Born Again and Died. In 2000 the band went on hiatus once again, when rumors of vocalist Layne Staley's drug abuse arose. Alice in Chains disbanded on April 20, 2002 after the news of the death of Staley.