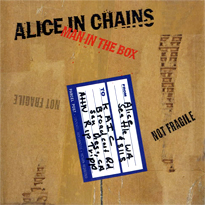 "Man in the Box" is a single by the American rock band Alice In Chains. It was released as a single in 1991 after being featured on the group's debut full-length album Facelift (1990). The song was included on the compilation albums Nothing Safe: Best of the Box (1999), Music Bank (1999),Greatest Hits (2001), and The Essential Alice in Chains (2006), and is a playable track in the video game Rock Band 2. The song is also played in the 2000 film The Perfect Storm.
Recording
Edit
In the liner notes of 1999's Music Bank box set collection, guitarist Jerry Cantrell said of the song, "That whole beat and grind of that is when we started to find ourselves; it helped Alice become what it was." The song makes use of a talk box to create the guitar effect. The original Facelift track listing credited only vocalist Layne Staley and Jerry Cantrell with writing the song. All post-Facelift compilations credited the entire band. It is unclear as to why the songwriter credits were changed.
Music Video

Edit
The MTV music video for the track was released in 1991 and was directed by Paul Rachman, who later directed the first version of the "Sea of Sorrow" music video for the band and the 2006 feature documentary American Hardcore. The music video was nominated for Best Heavy Metal/Hard Rock Video at the 1991 MTV Video Music Awards. The video is available on the home video releases Live Facelift and Music Bank: The Videos. The video shows the band performing in what is supposedly a barn, where throughout the video, a mysterious man wearing a black hooded cloak is shown roaming around the barn. Then, after the unknown hooded figure is shown, he is shown again looking around inside a stable where many animals live where he suddenly discovers and shines his flashlight on a man (supposedly Layne Staley) that he finds sitting in the corner of the barnhouse. At the end of the video, the hooded man finally pulls his hood down off of his head, only to reveal that his eyelids were sewn together with stitches the whole time. This part of the video depicts on the line of the song, "Feed my eyes, now you've sewn them shut". The music video was shot on 16mm film and transferred to tape using a FDL 60 telecine. At the time this was the only device that could sync sound to picture at film rates as low as 6FPS. This is how the surreal motion was obtained. The sepia look was done by Claudius Neal using a daVinci color corrector.
I'm the man in the boxBuried in my shitWon't you come and save me, save me Feed my eyes, can you sew them shut?Jesus Christ, deny your makerHe who tries, will be wastedFeed my eyes now you've sewn them shut I'm the dog who gets beatShove my nose in shitWon't you come and save me, save me Feed my eyes, can you sew them shut?Jesus Christ, deny your makerHe who tries, will be wastedFeed my eyes now you've sewn them shut ==Video==