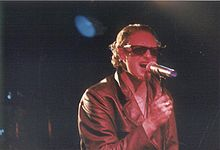 Layne Thomas Staley (August 22, 1967 – April 5, 2002) was an American musician who served as the lead singer and co-songwriter of the rock band Alice In Chains, which he and guitarist Jerry Cantrell formed in Seattle, Washington in 1987. Alice in Chains rose to international fame as part of the grunge movement of the early 1990s. The band became known for his distinct vocal style, as well as the harmonized vocals between him and Cantrell. Staley was also a member of the supergroups Mad Season and Class of '99. He struggled throughout his adult life with severedrug addiction, culminating with his death in April 2002.
Early Life
Edit
Layne Staley was born to Phil Staley and Nancy Staley (née McCallum) in Kirkland, Washington. He was seven years old when his parents divorced, after which he was raised by his mother and stepfather, Jim Elmer. He was raised Catholic. He took his stepfather's name while enrolled in Meadowdale High School and was known for some time as Layne Elmer. In late 2001, shortly before his death, he would describe the experience of witnessing his parents' divorce: "My world became a nightmare, there were just shadows around me. I got a call saying that my dad had died, but my family always knew he was around doing all kinds of drugs. Since that call I always was wondering, 'Where is my dad?' I felt so sad for him and I missed him. He dropped out of my life for 15 years." In that same interview he hinted that his parents' break-up and his father's drug use were at least partially responsible for his own drug problems, and also said that he was convinced that if he became a celebrity his dad would return.
Staley began playing drums at age 12; he played in several glam bands in his early teens, but by this point, Staley had aspirations of becoming a singer. In 1984, Staley joined a group of Shorewood High students in a band called Sleze, which also featured future members of The Dehumanizers and Second Coming. In 1986, Sleze morphed into Alice N' Chains, a band which Staley said "dressed in drag and played speed metal." The new band performed around the Seattle area playing Slayer and Armored Saint covers. Staley met guitarist Jerry Cantrell while working at Music Bank rehearsal studios, and the two fast friends lived as roommates for over a year in the dilapidated rehearsal space they shared. Alice N' Chains soon disbanded and Staley joined a funk band who at the time also required a guitarist. He asked Cantrell to join as a sideman. Cantrell agreed on condition that Staley join Cantrell's band, which at the time included drummer Sean Kinney and bassist Mike Starr. In 1986, Staley met Seattle underground guitarist Tim Barnes at a local Seattle bar. Barnes would later be offered a position in Alice in Chains but declined. Eventually the funk project broke up and in 1987 Staley joined Cantrell on a full-time basis. The band eventually took the name of Alice in Chains.
On April 19, 2002, Staley's accountants contacted Staley's mother Nancy McCallum and informed her that no money had been withdrawn from the singer's bank account in two weeks. McCallum then placed a call with 911 to say "she hadn't heard from… [Staley] in about two weeks." The police went with McCallum and her husband to Staley's home, "When police kicked in the door to Layne Staley's University District apartment on April 19, there, on a couch, lit by a flickering TV, next to several spray-paint cans on the floor, not far from a small stash of cocaine, near two crack pipes on the coffee table, reposed the remains of the rock musician." The article also stated that the 6'1" Staley weighed just 86 pounds when his body was discovered, mostly due to decomposition as his body was discovered two weeks after his death. The autopsy report later concluded that Staley had died after injecting a mixture of heroin and cocaine known as a "speedball".
In an interview on VH1's Celebrity Rehab with McCallum, former Alice in Chains bass player Mike Starr said that he spent time with Staley the day before he died as Starr's birthday was April 4. Starr claimed that Staley was very sick but would not call 911. The two ex-bandmates briefly argued, which ended with Starr storming out. Starr stated that Staley called after him as he left: "Not like this, don't leave like this". Since Staley is believed to have died a day later, on April 5, Starr expressed regret that he did not call 911 to save his friend's life; Starr reported that Staley had threatened to sever their friendship if he did. Starr was the last known person to see Staley alive. The interview ended with Starr apologizing to McCallum for not calling 911, but McCallum was insistent that neither she nor anyone in her family blamed Starr for Staley's death. She also told Starr: "Layne would forgive you. He'd say, 'Hey, I did this. Not you.'" With that said, Starr still blamed himself for the death of Staley. Starr kept this story a secret until his appearance on Celebrity Rehab in August 2009. Starr was found dead in 2011, also of a drug overdose. During this same interview, McCallum also claimed that Layne had attempted rehab 13 times, although it's not clear whether any of these attempts were during his reclusive years.
Aftermath
Edit
An informal memorial was held for Staley on the night of April 20 at the Seattle Center which was attended by at least 1000 fans and friends, including Cantrell, Starr, Inez, Kinney and Soundgarden frontman Chris Cornell. Cantrell dedicated his 2002 solo album, Degradation Trip, released two months after Staley's death, to his memory. Following Staley's death, Alice in Chains officially disbanded. For the next several years, the band refused to perform together out of respect for Staley. In 2005, the remaining members reunited for a benefit concert for victims of the December 26, 2004 tsunami, with several vocalists filling in for Staley, including Patrick Lachman from Damageplan, Phil Anselmo of Pantera and Down fame, Wes Scantlin from Puddle of Mudd, Maynard James Keenan from Tool (a friend of Staley's), and Ann Wilson from Heart, who had previously worked with Alice in Chains when she sang on the Sap EP (performing backing vocals on the songs "Brother" and "Am I Inside"). Following positive response, the band decided to reunite formally in 2006.
In an interview with MTV News, Kinney noted that the band would use the reunion concerts to pay tribute to the songs and to Staley. William DuVall, a member of Cantrell's solo touring band (who often sang Staley's parts on the Alice in Chains songs that Cantrell performed), was announced to sing Staley's part for the reunion shows. In the same interview, Kinney noted the reunion didn't necessarily foretell a future for Alice in Chains:
| | | |
| --- | --- | --- |
| " | If we found some other dude, I'd love to move on, write some cool tunes and change the name and go on like that. I don't see continuing as Alice and replacing somebody… We're not trying to replace Layne. We want to play these songs one more time, and if it seems like the right thing to do, it'll happen. I don't know how long it will go or where it will take us. It's kind of a tribute to Layne and our fans, the people who love these songs. | " |
The reformed Alice in Chains (with DuVall), which are known to have an intermission to include a five-minute filmed tribute in between sets to Staley,[47] generated enough enthusiasm from fans, including Staley's mother according to DuVall,[48] to convince the band to keep the name. In 2009, Alice in Chains released their first studio album in 14 years, Black Gives Way To Blue. The title track from the album was written as a tribute to Staley.