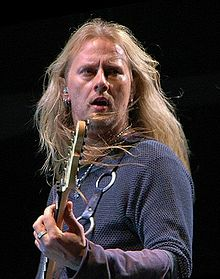 Jerry Fulton Cantrell Jr. (born March 18, 1966 in Tacoma, Washington) is an American guitarist, singer, and songwriter best known for his work with the rock band Alice in Chains, as lead guitarist, backing and co-lead vocalist, main songwriter, and co-lyricist. He performs lead vocals on his solo projects, and is part of Alice In Chains' harmonizing dual-vocal style. He resides in Los Angeles and spends time on his family ranch in Oklahoma.
Early Life
Edit
Cantrell noted in an interview that he was "raised on country music" as a youth and that he admires the emotion conveyed in the genre. He also considers himself "half Yankee and half redneck." However, hard rock music caught Cantrell's interest predominantly, and he bought his first guitar in his mid teens. It wouldn't be until the age of 17 that he began seriously playing the instrument. Cantrell would later cite groups and musicians like Jimi Hendrix, Heart, Black Sabbath, and Queensrÿche as major influences.
Cantrell attended junior high and high school in Spanaway, Washington and, before owning his first guitar, was a member of the high school choir which attended many state competitions. His senior year, Cantrell became choir president, and the quartet sang the national anthem at basketball games and won competitions with the highest marks achievable. Cantrell has cited his interest in dark musical tones as dating back to this period: "In choir we performed a cappella Gregorian chants from the 14th and 15th centuries. It was scary church music."[1] His choir teacher and drama teacher were, early on, his two greatest motivators toward a career in music. When Alice in Chains' first album went gold, Cantrell sent both teachers a gold record.
Cantrell's parents divorced when he was 7, and his mother died in 1987 at the age of 43.
In the mid-1980s, Cantrell began a band called Diamond Lie which included drummer Sean Kinney and bassist Mike Starr. Layne Staley, a vocalist and Cantrell's roommate, also agreed to join on the condition that Cantrell join his funk project (which ended shortly after). Diamond Lie gained attention in the Seattle area and eventually took the name of Alice 'N Chainz, then renamed Alice in Chains.
Alice In Chains
Edit
Jerry Cantrell served as the lead guitarist, co-lyricist, co-vocalist and main composer of Alice in Chains until the group's near-permanent hiatus beginning in the late 1990s and leading through the death of lead singer Layne Staley in April 2002. The band reformed in 2005 with its surviving members. Cantrell played in a number of concerts with Alice In Chains featuring lead singers such as Maynard James Keenan, Mark Lanegan,James Hetfield, Phil Anselmo, Billy Corgan, Patrick Lachman, Scott Weiland, and William DuVall. Although Cantrell acknowledges the benefits of working as a solo artist, he expressed his happiness with being back in the band culture. On September 29, 2009, Alice in Chains, with William DuVall as vocalist, released their first record since the death of Layne Staley, Black Gives Way to Blue, and toured in support of the album. The band expects to release their fifth studio album, The Devil Put Dinosaurs Here, on May 28, 2013.