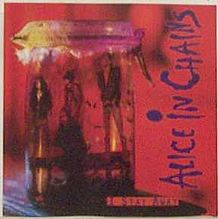 "I Stay Away" is the second single from Alice In Chains' EP Jar of Flies (1994). The song was included on the compilation albums Nothing Safe: Best of the Box (1999), Music Bank (1999), Greatest Hits (2001), and The Essential Alice in Chains (2006).
Origin And Recording
Edit
In the liner notes of 1999's Music Bank box set collection, guitarist Jerry Cantrell said of the song:
That was the first time we'd written with Mike Inez, which makes this another special song. The whole Jar of Flies EP proved to both us and the fans what a talented and valid part of the band Mike was. He plays the nastiest, darkest shit but he's got the sweetest heart in the world.
Music Video
The music video for "I Stay Away" was released in 1994 and was directed by Nick Donkin, famous for his claymation film The Junky's Christmas. The music video for "I Stay Away" is entirely stop-motion animation, featuring the band members in puppet form. The band travels to a circus, where things go awry when one character unleashes a Jar of Flies. The video is available on the home video release Music Bank: The Videos. The puppets used in the video can now be found in the Rock and Roll Hall of Fame.
"I Stay Away" was also featured in an episode of Beavis and Butt-head.