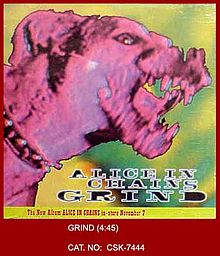 "Grind" is a song by American rock band Alice In Chains and the lead single from their album Alice in Chains (1995). It serves as the opening track to the album but, despite being its first single, did not experience the radio longevity of some of its contemporaries. The song was included on the compilation albums Nothing Safe: Best of the Box (1999), Music Bank (1999), Greatest Hits (2001), and The Essential Alice in Chains (2006). Jerry Cantrell sings lead vocals on the song with Layne Staley harmonizing with him. To date, this is the only publicly released AIC song to use standard E-tuning.
Release and Reception
Edit
The song was leaked to radio prematurely so the band released it via satellite uplink a few days later to combat illegal versions being played in rotation. "Grind" was released as a single in 1995. "Grind" peaked at number seven on the Billboard Mainstream Rock Tracks chart and at number 18 on the Billboard Modern Rock Tracks chart. "Grind" reached the top 30 in the UK. "Grind" was nominated for the Grammy Award for Best Hard Rock Performance in 1996.
Editorial reviews frequently pointed out "Grind" for its dark, compelling lyrics. Jon Wiederhorn of Rolling Stone noted, "'Grind' shimmers and shudders beneath a web of trippy wah-wah guitar and half-distorted vocal harmonies, and features one of the album's many hook-filled choruses." Allmusic's Steve Huey regarded the song "among the band's best work" but also noted that the less refined tracks on the album make the defiance of "Grind" sound "more like denial." Regarding band rumors, Jon Pareles of The New York Times commented that the song advises against believing "what you may have heard and what you think you know."
Music Video
Edit
The music video for "Grind" was released in 1995. It is a live-action video. The video features the band underground of an old building where Sunshine the Dog is (who is on the cover for Tripod). It was directed by Rocky Schenck, who had previously directed the "We Die Young", "Them Bones", and "What The Hell Have I" music videos for the band. The video received heavy rotation on MTV in late 1995. The video is available on the home video releases The Nona Tapes and Music Bank: The Videos.
Personnel

Edit