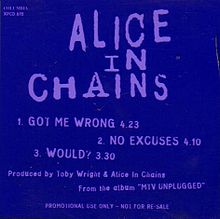 "
Got Me Wrong
" was a largely 
acoustic
 single by the American 
rock
 band 
Alice In Chains
. The studio version was first featured on the band's EP
Sap
 (1992). A slightly different version of the song also appeared on the 
soundtrack
 to the 1994 
independent
comedy film
Clerks
, and is played when the character 
Randal
 first appears in the movie.
In the liner notes of 1999's Music Bank box set collection, guitarist Jerry Cantrell said of the song:
That's about a girl I was dating in between one of the times I broke up with my true love. A lot of times you'll tell someone how you don't want to be in a relationship and why, and what kind of person you are, and they hear all that but think that they can change you. That's what the song's about, getting me wrong and the different ways that men and women see each other.
Release and Reception
Edit
"Got Me Wrong" was released as a single in 1994, after its appearance in Clerks. "Got Me Wrong" peaked at number seven on the Billboard Mainstream Rock Tracks chart and at number 22 on the Billboard Modern Rock Tracks chart. Both the studio version and the version from Unplugged received significant airplay.
Ned Raggett of Allmusic said that the song "went a long way towards showing how Alice in Chains could work as effectively at low(er) volume as at high" and that "it's almost one of the warmest and most inspiring things the band had yet recorded — musically, at least."
The song continues to get significant airplay on Sirius XM radio's grunge station, Lithium.
Personnel