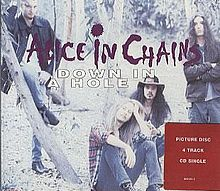 "Down in a Hole" is a single from Alice In Chains' album Dirt (1992). It is the fourth song on most pressings of the album and eleventh on others. The song was included on the compilation albums Nothing Safe: Best of the Box (1999) and Music Bank (1999).
Origin And Recording
Edit
Songwriter and guitarist Jerry Cantrell was at first hesitant to present the song to the band, feeling that the song was too soft, but after a positive response from the band, they followed through and recorded it. The composition is written in A minor, utilizing Dorian mode, and is centered mainly around A minor - G major - D major chord progression, with Layne Staley's and Jerry Cantrell's vocal parts intricately harmonizing.
Music Video

Edit
"Down in a Hole" became one of the five video-singles from the album. The music video was released in 1993 and was directed by Nigel Dick. The video is available on the home video release Music Bank: The Videos. "Down in a Hole" being from Dirt was the first video featuring Mike Inez.
Section heading
Edit