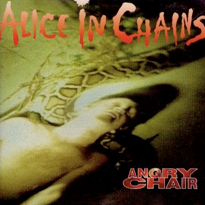 "Angry Chair" is a song by the American rock band Alice In Chains. It was the third single from their album Dirt (1992). It is the twelfth or tenth song on the album, depending on the edition. The song was included on the compilation albums Nothing Safe: Best of the Box (1999), Music Bank (1999),Greatest Hits (2001), and The Essential Alice in Chains (2006).
Origin And Recording
Edit
The song was one of the few written entirely by vocalist Layne Staley for the band. In the liner notes of 1999's Music Bank box set collection, guitarist Jerry Cantrell said of the song:
Such a brilliant song. I'm very proud of Layne for writing it. When I've stepped up vocally in the past he's been so supportive, and here was a fine example of him stepping up with the guitar and writing a masterpiece.
Music Video
The music video for "Angry Chair" was released in 1992 and was directed by Matt Mahurin, who later directed the "No Excuses" music video for the band. The video is available on the home video release Music Bank: The Videos.