Alice in Chains
 is an American rock band formed in Seattle, Washington, in 1987 by guitarist and vocalist 
Jerry Cantrell
 and drummer
Sean Kinney
, who then recruited bassist
Mike Starr
 and lead vocalist 
Layne Staley
. Starr was replaced by 
Mike Inez
in 1993. 
William DuVall
 joined the band in 2006 as co-lead vocalist and rhythm guitarist, replacing Staley, who died in 2002.
Although widely associated with grunge music, the band's sound incorporates heavy metal and acoustic elements. Since its formation, Alice in Chains has released six studio albums, three EPs, three live albums, four compilations, two DVDs, 31 music videos and 29 singles. The band is known for its distinctive vocal style,[8] which often included the harmonized vocals between Staley and Cantrell (and later between Cantrell and William DuVall). Cantrell started to sing lead vocals on the 1992 acoustic EP Sap, and his role continued to grow in the following albums, making Alice in Chains a two-vocal band.
Alice in Chains rose to international fame as part of the grunge movement of the early 1990s, along with other Seattle bands such as Nirvana, Pearl Jam, and Soundgarden. The band was one of the most successful music acts of the 1990s, selling over 25 million albums worldwide, and over 14 million in the US alone. In 1992 the band released their album Dirt which was critically acclaimed and has been certified quadruple platinum. The band also achieved two No.1 Billboard 200 albums (Jar of Flies and Alice in Chains), 16 top ten songs on the Mainstream Rock Tracks chart, 5 No. 1 hits and nine Grammy Award nominations.
Although never officially disbanding, Alice in Chains was plagued by extended inactivity from 1996 onwards due to Staley's substance abuse, which resulted in his death in 2002. The band reunited in 2005 with new lead vocalist William DuVall, and released their fourth studio album, Black Gives Way to Blue, in 2009. The album was a success, being certified gold by the RIAA in 2010. Alice in Chains released their fifth studio album, The Devil Put Dinosaurs Here on May 28, 2013, and it peaked at No.2 on the Billboard 200 chart. The band's sixth studio album is set for release in the summer of 2018.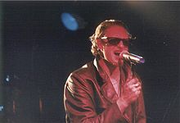 Before the formation of Alice in Chains, then-drummer[4][5] Layne Staley landed his first gig as a vocalist when he auditioned to sing for a local glam metal band known as Sleze after receiving some encouragement from his stepbrother Ken Elmer. Other members of this group at that time were guitarists Johnny Bacolas and Zoli Semanate, drummer James Bergstrom, and bassist Byron Hansen. This band went through several lineup changes culminating with Nick Pollock as their sole guitarist and Bacolas switching to bass before discussions arose about changing their name to Alice in Chains. This was prompted by a conversation that Bacolas had with a singer from another band about backstage passes. Due to concerns over the reference to female bondage, the group ultimately chose to spell it differently as Alice N' Chains to allay any parental concerns but Staley's mother Nancy McCallum has said she still was not happy with this at first.[
While performing with Alice N' Chains, Staley met guitarist Jerry Cantrell while working at Music Bank rehearsal studios, where the two struggling musicians became roommates, and lived in a rehearsal space they shared. Alice N' Chains soon disbanded and Staley joined a funk band who at the time also required a guitarist. Staley asked Cantrell to join as a sideman. Cantrell agreed on condition that Staley join Cantrell's band, which at the time included drummer Sean Kinney and bassist Mike Starr. Eventually the funk project broke up and in 1987 Staley joined Cantrell's band on a full-time basis, playing in clubs around the Pacific Northwest, often stretching 15 minutes of material into a 45-minute set. The band played a couple of gigs calling themselves several different monikers, including Diamond Lie, which was the name of Cantrell's previous band, before they eventually took the name that Staley's previous band had initially flirted with - Alice in Chains.
Musical Style
Edit
Although Alice in Chains has been labeled grunge by the mainstream media, Jerry Cantrell identifies the band as primarily heavy metal. He told Guitar World in 1996: "We're a lot of different things... I don't quite know what the mixture is, but there's definitely metal, blues,rock and roll, maybe a touch of punk. The metal part will never leave, and I never want it to". Over the course of their career, the band's sound has also been described as alternative metal, hard rock, sludge metal and alternative rock. Regarding the band's constant categorization by the media, Cantrell stated "When we first came out we were metal. Then we started being called alternative metal. Then grunge came out and then we were hard rock. And now, since we've started doing this again I've seen us listed as: hard rock, alternative, alternative metal and just straight metal. I walked into an HMV the other day to check out the placement and see what's on and they've got us relegated back into the metal section. Right back where we started!". According to Mike Inez, they were always the metal stepchildren of the Seattle scene.
Jerry Cantrell's guitar style combines "pummeling riffs and expansive guitar textures" to create "slow, brooding minor-key grinds". While down-tuned distorted guitars mixed with Staley's distinctive "snarl-to-a-scream" vocals appealed to heavy metal fans, the band also had "a sense of melody that was undeniable", which introduced Alice in Chains to a much wider audience outside of the heavy metal underground.
The band has been described by critics as "hard enough for metal fans, yet their dark subject matter and punky attack placed them among the front ranks of the Seattle-based grunge bands". Three of the band's releases feature all acoustic music, and while the band initially kept these releases separate, Alice in Chains' self-titled album combined the styles to form "a bleak, nihilistic sound that balanced grinding hard rock with subtly textured acoustic numbers".
Alice in Chains is also noted for the unique vocal harmonies of Staley and Cantrell, which included overlapping passages, and dual lead vocals. Alyssa Burrows said the band's distinctive sound "came from Staley's vocal style and his lyrics dealing with personal struggles and addiction". Staley's songs were often considered "dark", with themes such as drug abuse, depression, and suicide, while Cantrell's lyrics dealt more with personal relationships.
Discography
Edit
Studio Albums
Edit
Live Albums
Edit